YESTERDAY'S MENU
Something Delicious For You!
At Yesterday's Restaurant in Granger, Indiana, we are known for a lot of things- memorable dining experiences, unique atmosphere and exceptional service. However, our reputation is wrapped tightly around our food. Almost everything we serve is either organic or produced locally on Amish farms. We always provide our customers fresh produce and most everything is hand-made just for you. Check out our menu below and join us for a dining experience you will not soon forget!
PLEASE MAKE NOTE
Yesterdays provides a Special Affairs Menu on specific dates and times throughout the year (noted below).
Our menu will be limited to our Special Affairs Menu during those times. We hope you'll enjoy!
Special Affairs Menu Only

Valentine Week
Mother's Day Weekend (Fri, Sat, Sun)
New Year's Eve
Notre Dame Junior Parent Weekend
Notre Dame Graduation Weekend
St Mary's Graduation Weekend
Notre Dame Football Home Game Weekends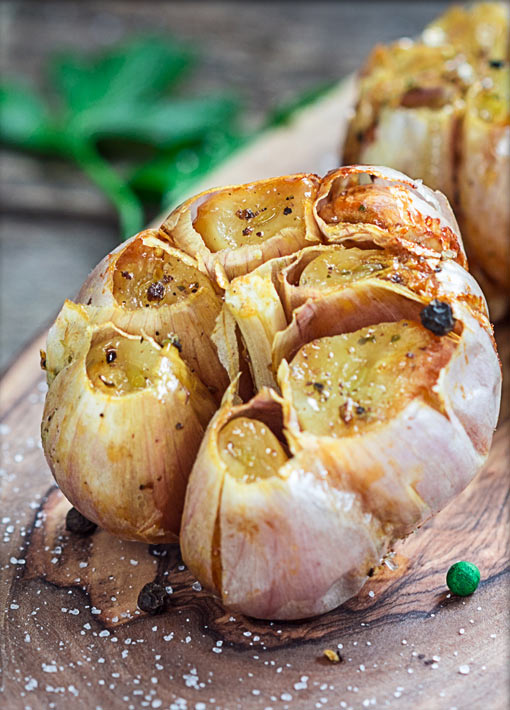 STARTERS & SUCH
CAPTIVA CRAB CAKE… $15
One large crab cake made up of fresh crabmeat, peppers, corn & seasonings, lightly sautéed. Featuring our curry mayo on the side.
BU BU II… $15
Picking up where Bu Bu left off. Baked French bread topped with spinach, pesto, pine nuts and a "wicked good" blend of cheeses.
ROASTED GARLIC (for two)… $18
We still haven't seen Dracula!…Served with sourdough bread for dipping and spreading those unbelievable cheeses.
ESTHER WILLIAMS SHRIMP COCKTAIL… $20
HOT SAILOR GIRLS… $17
Yesterday's take on buffalo shrimp!
THE ARTIE SHAW… $16
A decadent, roasted artichoke dip. Served with artisan flat bread for scooping.
ESCARGOT IN PUFF PASTRY... $22
UNCLE MATT'S CHICKEN LIPS… $15
A fresh chicken breast sliced into strips & rolled in a spicy secret sauce.. makes wings extinct!
YESTERDAYS POTATOES… $18
Like no other skin sensation! Bacon, tomatoes, green onions and cheddar cheese, nested in Idaho skins and a dab of our secret spicy sauce.
BIG DADDY'S BAKED BRIE…$20
Danish Brie wrapped and baked golden in a puff pastry, topped with a warm pecan caramel sauce and fresh fruit.
CAPTAIN CARRIE'S CALAMARI… $17
Lightly fried in a cracker-crumb batter.
HAWAIIAN FIVE O'S… $19
Sweet onion rings, rolled in coconut, then lightly fried with an Asian plum sauce.
MIAMI MOONS... $14
Sidewinders with melted cheddar and fresh bacon bits.
THE PRINCE
One pound of farm raised frogs legs... so good! Market Price
SOUPS & GREENS
BAKED FRENCH ONION SOUP… $9
THE HOT CHICK… $19
Our famous spicy chicken lips, served on a bed of organic greens.
THE CAMPFIRE COWBOY… $13
Our homemade chili, served loaded.
THE BARBIE… $17
Served with our outstanding homemade Bleu Cheese dressing. A barbequed chicken wedge! Topped with grilled red onions, tomatoes and Blue Cheese crumbles.
THE LUCCA CAPRESE… $16
A traditional first plate with a twist!
THE TIMES SQUARE… $24
A generous portion of our sliced Prime Rib, dried Cherries,crumbled bleu and Chef Aaron's Balsamic.
BILLY'S BLACKENED CHILEAN SALMON SALAD... $25
THE CHICKEN HAWK CAESAR... $16
WITH GRILLED SHRIMP... $27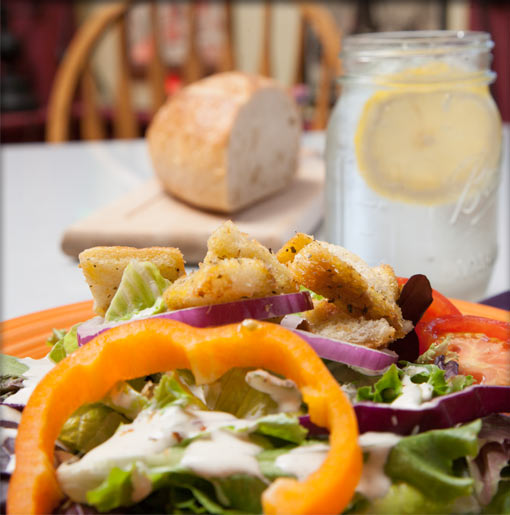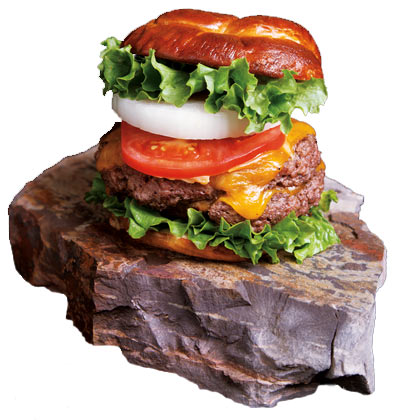 YESTERDAY'S DELUXE SANDWICHES
THE NEW YORK CHEESESTEAK… $22
Thinly sliced prime rib, covered with sautéed mushrooms, onions and Jamaican Jack cheese on our toasted sourdough loaf.
THE GREAT SCOTT… $18
Our biggest burger made from our freshly ground filet mignon and bursting with flavor. Voted the #1 Burger in 100 Miles! Thanks ZZZIPPY!
Click here to read the story!
THE MOB BURGER… $18
Topped with roasted garlic cloves, grilled onions and havarti cheese.
- GLUTEN-FREE BUGER BUNS AVAILABLE... $2
CHICKEN LIP SANDWICH… $19
Served with our home made Bleu cheese dressing.
THE MOBY DICK..... A WHALE OF A SANDWICH… $20
The freshest catch of the day topped with melted cheddar cheese, served deluxe on buttered Texas toast.
THE THREE STOOGES..... When Available… $28
Our filet mignon sliders with havarti cheese and grilled onions, and our french onion soup.
THE FLIP SIDE
When you want something delicious... but not a full meal!
SOUTH BAJA FISH TACO'S… $22
Served with a beer-spiked chipotle sauce, tucked into soft corn
THE ORTIZ-ROMERO BURRITO… $25
No questions, no doubt, the best meat and bean burrito in town!
MR POTATO HEAD… $11
A loaded Idaho with cheddar, tomato and veggie of the day.
CHICKEN LIP TACOS… $24
Served with an avocado and cilantro ranch.
CHANGING OF THE GUARDS… $18
American fish and chips!
FRESH FRIED FARM RAISED HEARLAND CATFISH (Mississippi Delta)… $33
Served with Sidewinders and Coleslaw.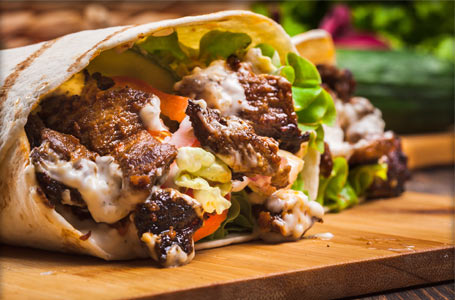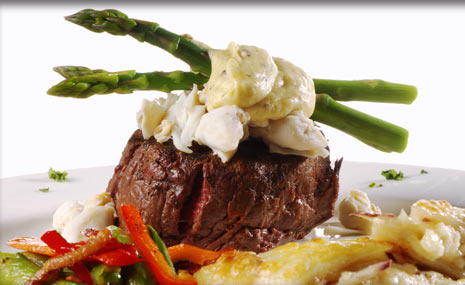 YESTERDAY'S DELUXE COMBINATIONS
THE FILET AND SHRIMP DOO-HICKEY… $54
Our hand-cut 10 oz. Filet Mignon and three almond crusted shrimp or coconut shrimp.
THE ADAM AND EVE… $53
A 12oz. Portion of our slow roasted prime rib and a Captiva Crab Cake. You can't to wrong!
POP EYE AND OLIVE OIL… Market Price
A 16oz hand cut New York Strip and a 1/2 pound of Sweet Alaskan King Crab Legs... jumbo and pre-split.
HOUSE SPECIALTIES
Entrees served with choice of soup or salad, baked Idaho potato, steamed sweet potatoes, garlic mashers, side-winder fries, or Latin style black beans over rice with chopped onions. We start from scratch and 95% of our fruits and vegetables are organic so any of our meals can be prepared Gluten free. Enjoy your experience, from our family to yours!
NEW YORK, NEW YORK… $46
A fresh hand-cut 16-17oz. strip bathed in garlic and prepared on a sizzling platter to order.
THE GODFATHER… $44
A very flavorful, tender hand-cut 10 oz. filet wrapped with hickory cherry smoked bacon, topped with lemon wheel and roasted garlic butter.
THE BLACK AND BLUE… $48
Our same great 10 oz. Filet mignon, prepared blackened and topped with Gorganzola cheese in a cast iron pan.
KING NEPTUNE… $53
Blue crabmeat and fresh asparagus, our superb 10oz. filet mignon and a homemade bérnaise come together for a fantastic combination.
PRIME RIB 16 OZ. CUT… $44 12 OZ. CUT… $38
Here at Yesterday's we carefully season and cook our famous Prime Rib to perfection. Due to its extreme popularity and our low roasting method there may be times when it's unavailable.
OSCAR STYLE…$12
BLACKENING SPICES…$2
SAUTEED MUSHROOMS… $4
CRUMBLED BLUE CHEESE … $4
SAUTEED ONIONS…$3
ORIENTAL PLUM CHICKEN... $27
A fresh chicken breast lightly fried over rice, ginger topped with a mild plum sauce, walnuts and green onions.
THE GEISHA GIRL… $28
Our teriyaki-sesame glazed chicken stir fry, tossed with veggies.
Meat Temperatures:
Rare- red cool center.
Medium Rare- red warm center.
Medium- pink throughout.
Medium Well- slightly pink center.
Well Done- cool throughout.
All Yesterday's beef is fresh and hand-cut
Note: we use real eggs in bérnaise sauce. According to Indiana Health Department Regulations, the following notice is required under section 181 of the Indiana Food Code: "Consuming raw or undercooked meats, poultry, seafood, shellfish, or eggs may increase your risk of food borne illness."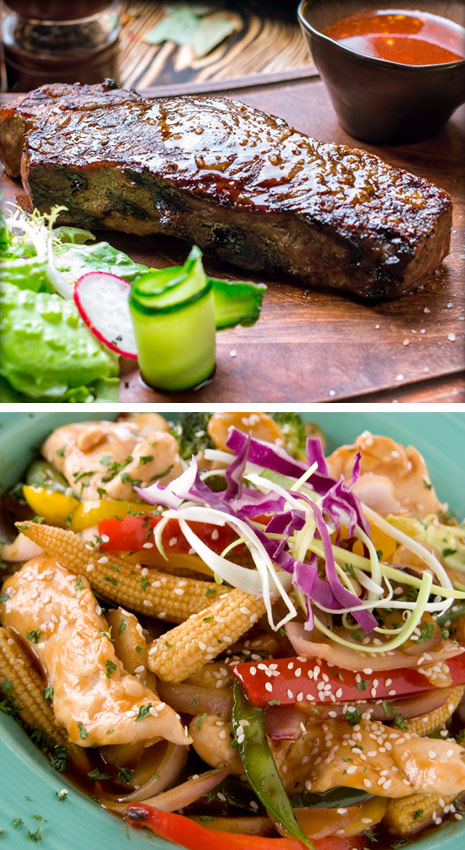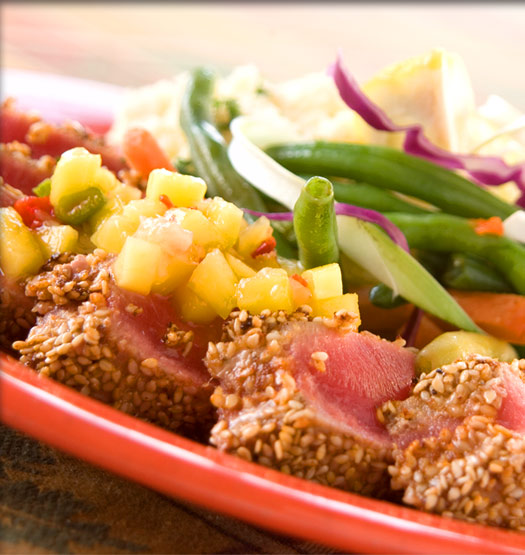 FROM THE DEEP
CAPTIVA CRAB CAKES… $38
Two large crab cakes made from a mixture of fresh crabmeat, peppers, corn, secret seasonings, lightly breaded and offered with a curry mayonnaise on the side.
CHA CHA BEACH… $35
Large Gulf shrimp dipped in a beer batter concoction, rolled in fresh coconut flakes and Served with a tropical marmalade for dipping.
PESTO ENCRUSTED SALMON…$38
An 8 to 9 oz. fillet broiled with a pesto crust and topped with sautéed shiitake mushrooms.
HEY WALLY… $36
An 8 to 10 oz. fillet of Walleye rolled in a crushed pecan breading; then baked and served with a Hazelnut cream sauce.
ALMOND & COCONUT CRUSTED ALASKAN HADDOCK… $37
BLACKENED, WASABI CRUSTED YELLOW FIN TUNA… $37
THE GREAT LAKES: PAN SAUTEED YELLOW CANADIAN PERCH... $37
Served with lemond and our home-made tartar sauce.
FRESH OFF THE BOAT... MP
ONE POUND OF BERING SEA JUMBO KING CRAB LEGS (SPLIT)... MP
KEY WEST STYLE SHRIMP SCAMPI... $36
Five large shrimp broiled with crushed garlic, white wine and bread crumbs in a Fiesta boat.
KIDS MENU!
All Kid's Meals come with Golden Fries or Apple Sauce!
STEAK & MASHED POTATO SUNDAE… $8.95
Kid Friendly cubes of grilled steak layered with cheesy mashed potatoes and served with apple sauce.
BIG KID'S BURGER… $5.95
Plain or with American Cheese.
FRESH CHICKEN LITTLE FINGERS… $6.95
Golden fried Chicken Fingers. Kids love em!
2 CORNEY DOGS (not coney dogs)… $6.95
All we can say is YUM!
MIGHTY MAC & CHEESE… $7.50
BIG TOM TURKEY QUESADILLA... $6.75
A delicious tortilla filled with fresh trukey, cheese and goodness.
KID'S GRILLED CHEESE… $4.95
Choice of wheat bread or Texas toast.
MOBY DICK… $6.95
Golden fried Cod plain or coconut with our homemade tarter sauce.
HEALTHY KIDS… $7.95
Veggie, cheese & fruit plate served with Ranch Dipping Sauce.